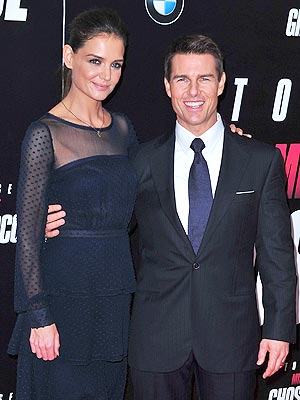 After five years of marriage, Tom Cruiseand Katie Holmes are getting a divorce, PEOPLE has learned exclusively.
"This is a personal and private matter for Katie and her family," says Holmes's attorney Jonathan Wolfe. "Katie's primary concern remains, as it always has been, her daughter's best interest."
The Rock of Agesstar, 49, wed actress Holmes, 33, in an Italian castle in November 2006. They have daughter Suri, 6.

This was Holmes's first marriage and the third for Cruise, who previously wasmarried to the actresses Nicole Kidman, with whom he has two children, and Mimi Rogers.
I guess Miss Josephine Potter really is on her own now.
But seriously. This is pretty sad… our hearts go out to poor little fashionista Suri, the best dressed child in Hollywood.
Joshua Jackson… time to step in…
Oh no! What could've happened between these two?!

It was just announced that after five years of marriage, Katie Holmesand Tom Cruise are calling quits.

Of course, it is always sad when a marriage comes to an end, but in Hollywood, there is always more to the story!

Now we are hearing that Katie filed the divorce papers yesterday in New York, citing "irreconcilable differences" … AND  she is seeking for sole legal custody and "primary residential custody" of the couple's daughter, Suri.

That's HUGE!

Sources also reveal that Katie is asking for a "suitable amount" of child support, as well as a division of property, which she should have no problem getting under their prenup … though she didn't make any mention of one in her filing.

Curiouser and curiouser! No doubt, we'll be hearing all the dirty deetsVERY soon!